I love food. I love food more than I love a lot of things in the world, and believe that most problems we face could probably be solved by food. Okay, maybe not solved... but we'd definitely be distracted from them for a little bit. And distraction is basically a break, and breaks are good for thinking.
Anyway.
Below, are three of my favorite recipes ever.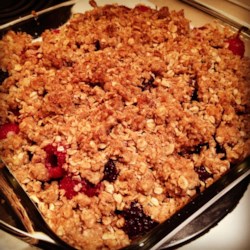 So good. So so good. Where I'm from we have a lot of blackberry bushes and apple trees, so we make crisps with whatever is in season at the time. My favorite dessert ever, especially with vanilla ice cream. Yum. We've also made this recipe using gluten free flour and it was still so good.
Note: We do not place the crisp layer on the bottom, just the top, the bottom layer had a strange texture for us- but you can try it!
1 1/2 cups fresh blackberries

1 1/2 cups fresh raspberries

1 1/2 cups fresh blueberries

4 tablespoons white sugar

2 cups all-purpose flour

2 cups rolled oats

1 1/2 cups packed brown sugar

1 teaspoon ground cinnamon

1/2 teaspoon ground nutmeg

1 1/2 cups butter
| | |
| --- | --- |
| 1. | Preheat oven to 350 degrees F (175 degrees C). |
| 2. | In a large bowl, gently toss together blackberries, raspberries, blueberries, and white sugar; set aside. |
| 3. | In a separate large bowl, combine flour, oats, brown sugar, cinnamon, and nutmeg. Cut in butter until crumbly. Press half of mixture in the bottom of a 9x13 inch pan. Cover with berries. Sprinkle remaining crumble mixture over the berries. |
| 4. | Bake in the preheated oven for 30 to 40 minutes, or until fruit is bubbly and topping is golden brown. |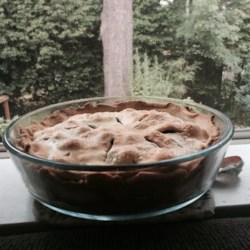 If you dislike blackberries, I'm sorry, but most recipes I share- especially during the summer months - will feature them. Due to the abundance of blackberries at home that I mentioned previously, we use blackberries a lot when we have them, and never ever get sick of them. So, without further ado, blackberry pie!
Crust
2 cups all purpose flour

1/4 teaspoon salt

2/3 cup cold Land O Lakes (or other) butter

4 to 5 tablespoons cold water
1.
Combine flour and salt in bowl; cut in butter with pastry blender or fork until mixture resembles coarse crumbs. Stir in enough water with fork just until flour is moistened.
2.
Divide dough in half; shape each half into ball. Flatten slightly. Wrap 1 ball in plastic food wrap; refrigerate.
3.
For 1-crust pie, roll out 1 ball of dough on lightly floured surface into 12-inch circle. Fold into quarters. Place dough into 9-inch pie pan; unfold dough, pressing firmly against bottom and sides. Trim crust to 1/2 inch from edge of pan. Crimp or flute edge. Fill and bake according to pie recipe directions.
4.
For 2-crust pie, roll out remaining ball of dough on lightly floured surface into 12-inch circle. Fold dough into quarters. Place dough over filling; unfold. Trim, seal and crimp or flute edge. Cut 5 or 6 large slits in crust. Bake according to pie recipe directions.



Filling

Ready In:

2 Hours 20 Minutes

4 cups fresh blackberries

1/2 cup white sugar

1/2 cup all-purpose flour

1 recipe pastry for a 9 inch double crust

pie

2 tablespoons milk

1/4 cup white sugar

1.
Preheat oven to 425 degrees F (220 degrees C).
2.
Combine 3 1/2 cups berries with the sugar and flour. Spoon the mixture into an unbaked pie shell. Spread the remaining 1/2 cup berries on top of the sweetened berries, and cover with the top crust. Seal and crimp the edges, and cut vents in the top crust for steam to escape.
3.
Brush the top crust with milk, and sprinkle with 1/4 cup sugar.
4.
Bake in the preheated oven for 15 minutes. Reduce the temperature of the oven to 375 degrees F (190 degrees C), and bake for an additional 20 to 25 minutes, or until the filling is bubbly and the crust is golden brown. Cool on wire rack.


I don't necessarily eat vegan, or gluten free, but we have some allergies in my family that result in desserts without eggs, flour, etc., quite often. Introducing these brownies. My mom and I loved them, my brother (who doesn't like things that are 'too chocolate-y'?) didn't. I think it just depends on your taste buds and whether they're right or... ahem, wrong. :)



Prep time

Ingredients

1 15 oz. can (~ 1 3/4 cups) black beans, well rinsed and drained
2 large flax eggs [note: we substituted applesauce for our eggs]
3 T coconut oil, melted (or sub other oil of choice)
3/4 cup cocoa powder (the higher quality the better)
1/4 tsp sea salt
1 tsp pure vanilla extract
heaping 1/2 cup raw sugar, slightly ground or pulsed in a food processor or coffee grinder for refined texture
1 1/2 tsp baking powder
Optional toppings: crush walnuts, pecans or semisweet chocolate chips

Instructions

Preheat oven to 350 degrees.
Lightly grease a 12-slot standard size muffin pan (not mini). Make sure you've rinsed and thoroughly drained your black beans at this point.
Prepare flax egg by combining flax and water in the bowl of the food processor. Pulse a couple times and then let rest for a few minutes.
Add remaining ingredients (besides walnuts or other toppings) and puree - about 3 minutes - scraping down sides as needed. You want it pretty smooth.
If the batter appears too thick, add a Tbsp or two of water and pulse again. It should be slightly less thick than chocolate frosting but nowhere close to runny.
Evenly distribute the batter into the muffin tin and smooth the tops with a spoon or your finger.
Optional: Sprinkle with crushed walnuts, pecans or chocolate chips.
Bake for 20-26 minutes or until the tops are dry and the edges start to pull away from the sides. I found mine took about 25.
Remove from oven and let cool for 30 minutes before removing from pan. They will be tender, so remove gently with a fork. The insides are meant to be very fudgy, so don't be concerned if they seem too moist - that's the point. Plus, they're vegan so it doesn't really matter.
Store in an airtight container for up to a few days. Refrigerate to keep longer.

I hope you enjoyed these recipes, let me know if you try anything and what you thought!

Fun little disclaimer: None, and I repeat- none, of these recipes are mine- the titles of each recipe will take you to their respective sources. Images from the crisp and pie are from lovely users at allrecipes, and the black bean brownie photos are from the Minimalist Baker (who by the way is genius and if you love food at all - go, go now!)